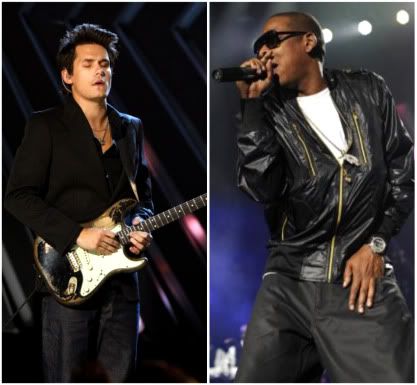 Jay-Z is so good he makes me want to pack and move back to NYC tomorrow. Er, actually, maybe when the "hot wet garbage" months have passed. I'm ready to play that guitar part to D.O.A. anytime he needs me. I love how Jay-Z and I both go to the same place to do our deep thinking in music videos. Check out "Waiting on The World..." vs. "D.O.A.
" -
John Mayer on Jay-Z's D.O.A. via Twitter

Can you imagine John playing the guitar on
D.O.A.
!?!? That would be sick! I only
follow
a few people on Twitter,
John Mayer
being one of them. With such an incredible artistry, John happens to be one of my favorites of this generation. That's probably why he's one of my
56
followers on
Twitter
-- I take such an interest towards him and his daily updates. Mayer, who happens to be
ultra-personal
on his records, Tweeted earlier today, June 28, about wanting to collaborate with
Jay-Z.
I would love to see these two do a
live album
together--get how I said
ALBUM
, and not record. One record just wouldn't due. With so much talent in one room, I would rather see them knock out a whole album ...You know, cut atleast
12
joints, John on the guitar & hook, while Jay murders a few
16's
. Can you see it?
That's slightly better than having a
"Sheneneh and Wanda"
movie...or close to it lol...
KodakBoi
The power of Twitter I tell you...