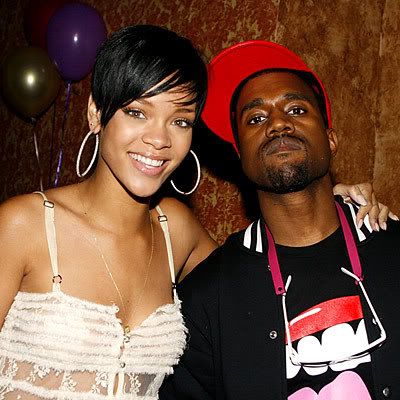 Recently
Kanye West
spoke on the
Chris Brown
smackdown situation with
Ryan Seacrest
saying :
"I feel like that's my baby sis and I would do anything and everything to help her in any situation," he said during "On Air With Ryan Seacrest" on 102.7 KIIS-FM. "I was completely devastated by the concept of what I heard."
Kanye said he didn't find out about the incedent until moments before his performance at the Grammy's.
"I was at the beginning of the 'American Boy' performance [with Estelle] when I really heard, when it kind of got cleared up, of what might have happened, and I was doing 'American Boy' and I was completely devastated during the performance," he shared.
"I feel like, just as a person I don't care how famous she is or even if she just worked at McDonald's that should never happen, it should never come to that, to that place," he said.
Being a big fan of
Rihanna
, Kanye says this:
"Rihanna is so important to our culture … to pop music," he declared. "I feel like she is the most important artist in music and has the most potential. Her taste level and her age … she has the potential to be the greatest artist of all time."
Due to the beatdown, Chris Brown's, "Got Milk" ads will be ending this week , and his Double Mint endorsement is being suspended.