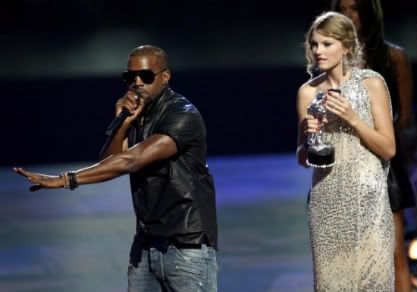 "Taylor, I'm really happy for you, I'm gonna let you finish, but Beyonce had one of the best videos of all time,"
-
Kanye West
Twitter Trending Topics
were off flying off the wall with all the
#random
outtakes at this years
VMA's
... but
Kanye's
outburst during
Taylor Swift's
acceptance speech had to be the most talked about
highlight
of the night!
@Pink
"Kanye west is the biggest piece of shit on earth. Quote me."
-
Pink
@SongzYuuup
"@taylorswift13 you deserve all you receive beautiful, let no man tell you different. :)"
-
Trey Songz
@MissKeriBaby
"OMG did yall just see Kanye? Did that just HAPPEN?? its outta control in here!!"
-
Keri Hilson
Ye's
BITCHASSNESS
came to no surprise, but shading the shine of a first time
VMA
winner
was clearly out of pocket! & After being
booed
for mentioning
Kanye's
name, I believe
Diddy
Twitt'd
it best...
@iamdiddy
"I'm gonna say this, we should always have respect for each other! End of discussion"
-
Diddy
PressPlay:
Kanye West takes Mic from Taylor Swift
Cleaning up the mess
West
left behind... A shocked and embarrassed
Beyonce
gracefully gave
Taylor Swift
her moment.
"[I remember] I was up for my first MTV award with Destiny's Child and it was one of the most exciting moments of my life," Beyonce said. "So I'd like for Taylor to come out and have her moment."
PressPlay:
Beyonce gives Taylor Swift her Moment!
Beyonce is such a Fu#*in Lady!
--
Is that the sounds acceptance I hear for the next Humanitarian award...?