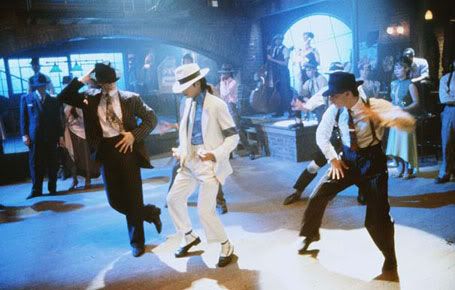 Collectively & respectfully, the members of
KidduNot.com
are dedicating today's
Flashback Friday
post entirely to the King of Pop,
Michael Jackson
. When it comes to pop culture his influence on music over the last
40 years
is not only unprecedented, but has also birth the career's and inspiration of almost every artist who has superseded him....
Get into 7:29, the best dances moves I've seen in my life!
As a kid, I fell in love with Michael Jackson. I believe it was after seeing this scene in

Moonwalker

, I fell in love with

Michael Jackson

as an artist. His iconic look caught my attention at a very young age--

the socks, the glitter, the hat, the glove, the moves

....I believe this movie is what solidified Michael as an iconic figure in my eyes--what was I, like 5 then? What did I know, right?!? But when he tossed that coin into the machine, man it was a wrap for me! I knew at that point he would give me a whole new outlook on pop culture
-
KodakBoi
What can be said about the incomparable

Michael Jackson

? Even today, the news of his passing feels so

unreal

to me. From the bottom of my heart, I thank you for your

artistry

, your spirit and for your dedication to the beat. You taught me how to not stop til I got enough, and still make me soul clap when I

mamasaymamasamamakusa.

While your life's journey has come to an end, I'll forever want to

'Rock with You'.

I Thank You
. -
Love COREY
THE Greatest Entertainer EVER!!!
Legends never die, remember that...
Love, The KidduNot family