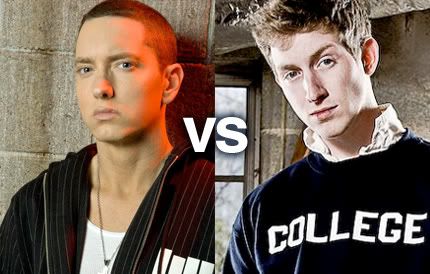 Eminem
sits comfortable at the throne-- landing on top of the Billboard 200 sales chart this week, selling sold over
608,200
copies of his comeback disc
Relapse
. Em has broken many records and this time, Eminem has broken the record for the
highest selling album
of '09. According to Nielsen's SoundScan, the disc has already gone gold after it's first week in stores. That being said, where does this leave
Asher Roth
? Is there any room for him anymore?
With Eminem's return, Asher Roth may have one of the
shortest lived
careers in hip hop. Asher went from
internet superstar
to the
bottom of the barrel
in a matter of months. Much of his downfall is believed to have came after his reference of
Don Imus'
infamous line about "Nappy Headed Hoes," which caused a bit of controversy in the hip-hop community. Is there any recovery from this type of injury? Are the Eminem comparisons hurting his album sells as well?
No matter how much Roth tries to distance himself from that of the
"Eminem clone,"
 he can't shake the
Eminem comparisons
. Since debuting on all the hip hop blogs, that's been their main focus--comparing his sound to that of Eminem's. 
When Eminem spoke on the comparisons last month with XXL mag, this is what he had to say--
"The stuff that I've heard from him honestly, which certainly isn't enough for me to make my own opinion and say, 'Yeah, he does sound like me' or 'No, he doesn't.' But the couple of songs I've head, I don't really think he does. You know what I mean? He's doing his own thing. I can respect it, too, because at the end of the day, I think he's dope."
Me personally, I don't think that their
rapping styles
are even close to the same, they just audibly sound exactly alike.
Despite the comparison, Soundscan shows the rapper's
Asleep in the Bread Aisle
, released April 21, has sold
112,100
copies in 4 weeks. And that's not half bad, considering
50%
of his following is digital--
online
. But still, is that enough to keep Asher in the game? Can he
solidify
himself as a solo artist, and not a clone? Or has the hip hop community already cast him out and it's simply too late?
It's gonna be interesting to see how this one plays out.