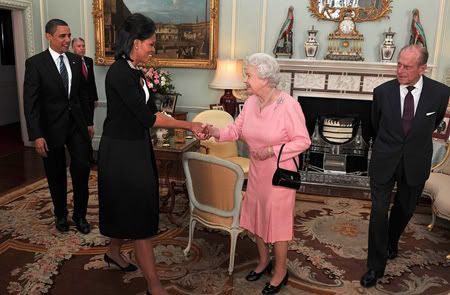 These are the sentiments expressed by one of the biggest names in fashion, Oscar De La Renta.
Since the beginning of the Barack Obama Presidential Campaign, Michelle Obama has made a conscious effort to support lesser-known American Designers. If she's not wearing something from designers like Jason Wu, Thakoon, and Isabel Toledo, she is sporting something from a big and affordable chain such as: The Gap, H&M, and J. Crew. Unsurprisingly, some people aren't too pleased with the first lady's style choices, including:
Oscar De La Renta, Vera Wang, and Donna Karan
. Here is what they have to say:
"American fashion right now is struggling,"

says Oscar de la Renta

. "I think I understand what [Obama and her advisers] are doing, but I don't think that is the right message at this particular point....I don't object to the fact that Mrs. Obama is wearing J. Crew to whatever because the diversity of America is what makes this country great. But there are a lot of great designers out there. I think it's wrong to go in one direction only."

He went on to say: "You don't...go to Buckingham Palace in a sweater."
Donna Karan took a more positive tone:

"
I hope and believe that this is just a moment,
" says Karan. "And I hope to be able to dress her, and not only dress her but address her, sit down --
I'm interested in her totality as a woman.
"
And
Vera Wang
also weighed in:
"I love seeing young designers and their vision and how they grow and all of that," she says. "On the other hand, of course, I wish she would consider some of us, because
I think we also have contributions to make
."
Although
everyone loves a labelwhore,
you can't expect every younger first lady to be a carbon copy of Jacki-O. If she feels more comfortable wearing H&M than Ralph Lauren, let the woman be.