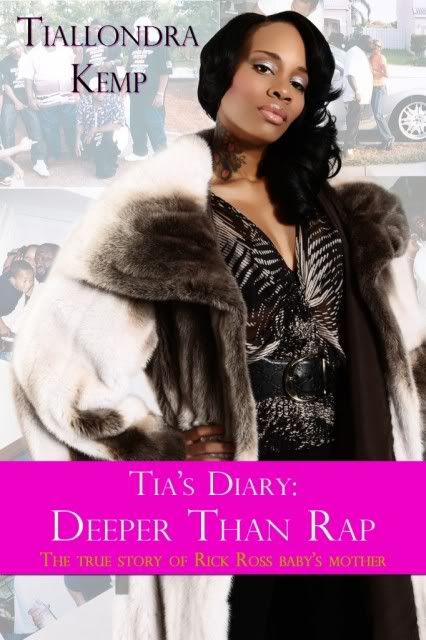 Not
. I know you gotta do what you gotta do to support your kids. But after agreeing to do a sex tape just to disparage her baby's father, Rick Ross, I have absolutely zero respect for Tiallondra Kemp. Well now she's back on the scene airing out all of her and her son's business for a
fur coat
and a
Gucci oval heel
. Tia is preparing to release her tell-all book,
Tia's Diary Deeper Than Rap: Clarity, Truth, And Exposure
(WTF kinda title is that lol), and it's obvious that 50 cent is pumpin out some
major dollars on this chick
. She has a
website
that actually looks pretty decent, the cover is already done (see above), and she's got a link up there to pre-order the book on amazon. Check out an excerpt from the prologue below
I looked at my watch, it was 4:30pm on January 21, 2009, the day I had been waiting to come for eight months. It was the day of the deposition in the child support case I had filed against the father of my third son, William Leonard Roberts Jr. also known as the big-time rapper (not the notorious drug dealer, don't get them confused) Rick Ross.
I had started this battle against William 17 months earlier after our tumultuous four-year relationship filled with passion and pain. My lawyer Ileana M. Almeida had spent the last eight months trying to get Will's lawyer Allan Zamren to make Will do the deposition for the case. They'd canceled two times already so I was surprised that William had finally showed up and was glad we were gonna to get things going. Ever since he'd become a celebrity, Will had been a different person. That mixed with his touring and promotions schedule and the life of a rap star is what made it so hard for anything in the child support case to move forward. His attitude also made things difficult.
I'm gonna be honest.... It actually looks pretty interesting. Check out
Deeperthanrapbook.com
to read the rest of the prologue.