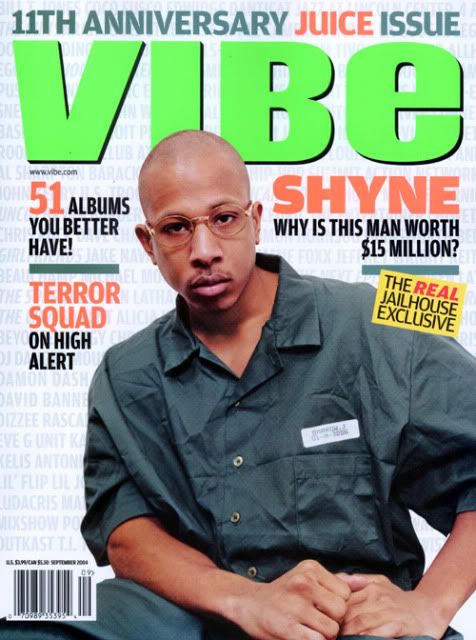 10 Years ago,
Hip Hop
was in an entirely different state. I'm not saying
Hip Hop is dead now
, but 10 years ago, this issue wouldn't have even warranted a discussion. Back in 1999, a 20-year old rapper by the name of Shyne was beginning to take the game by storm.
But everything changed after one fateful night. This is how the situation went down:
On December 27, 1999,
Shyne, Sean Combs, and Jennifer Lopez
were partying at "
Club New York
" in Manhattan. Reportedly, some randoms attempted to disrespect Combs by throwing money is his face as a sign of
disrespect
. As the situation escalated, a gun was supposedly drawn. In response, Shyne pulls out his
gun
and accidentally shoots an innocent bystander in the
face
. According to the witness that Diddy called to testify, Shyne initiated the altercation (which is why Shyne was served with a 10-year prison sentence and
Diddy was acquitted
). Shyne has since accused Diddy of being a fake and selling him out. Check the interview below (MTV 2002) for
Shyne's full explanation
of how
Diddy f***ed him over


Some have even said that
J. Lo
(that's what we called her back in 1999) walked away from the
club
and
Diddy
after the shooting, refusing to play any part in the situation. This is also reportedly what caused their break-up. Regardless, what's more pressing is the state of affairs for Shyne, who was sentenced to ten years in prison on
June 1, 2001.
In
2004
, Shyne somehow released an album from jail,
Godfather Buried Alive
, under Def Jam Recordings. Even though he was in jail, the album managed to go Platinum. All of the tracks contained previously unreleased vocals, minus one
daunting diss to 50 cent
made over a phone call from
prison
. It also marked a quasi-comeback for
Foxy Brown
, who was featured on a few songs. Speaking of Foxy Brown...
Shyne feat. Foxy Brown - More or Less (Produced by Kanye West)
I really miss that chick. She only said about 15 words in the song, but she somehow killed it.
Shyne, who is 30 years old and has now converted to
Judaism
, will be released from jail in less the one month (October 6, 2009). I can only imagine how this will change
Hip Hop
. Shyne was one of the most prolific rappers that Hip Hop has ever seen. He managed to push out one platinum album while
awaiting/enduring
the most important
trial
of his life, and he pushed out another platinum album while
behind bars
. This dude doesn't even need promo, and he was able to survive to curse of Diddy (while in jail). Who can do that?
Nine years ago
, wherever I was, I am sure I was listening to or thinking about this song:
Shyne – Bad Boys
And I know all the ladies remember this:
Shyne – Bonnie & Shyne