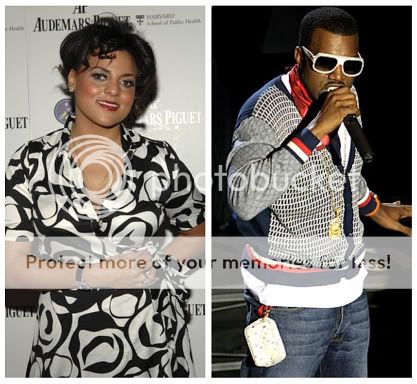 Talk about an unhappy camper!
Marsha Ambrosius
, formerly of
Floetry
, took a min to address
Mr. West's
rude actions last night at the VMA's.
Dear Kanye,

I met you a while ago… before you were ermmm

"Kanye"

… you once got on my tour bus to make sure I was ok before a show. I'd come down with a crazy cold and thought I wasn't able to go on that night… I thought it was really sweet that you were concerned. Matter of fact, it was House of Blues Myrtle Beach when Floetry were opening up for you. We had so much fun on the road, you were so cool, you knew all the words to Mase "Harlem World" album, we had jokes bout that :).

Time has passed and things have changed… still, when our paths have crossed, you haven't hesitated to say "What up" which is cool. I'm not sure what exactly has caused you to do and say the outlandish things that you have said and done and can only speculate. I wish you well, always have and well you have done… just not so much right now. Today, I received more calls, texts, emails, bbms about you… "Kanye did it again" "F*ck Kanye" "Kanye is finished" I didn't even see it… but based on past occurrences, I could only imagine… seriously…

TAYLOR SWIFT???

Mid speech, thanking God, parents and fans… recalling in a moment her journey, what she had been through to get to her moment… and your ignorant arrogant ass made an ass of everything you represent.

I was embarrassed… I support you, your art… my nephew is 5 and wants to be you for Halloween… how could you??? That wasn't your moment… you made a fool of the position you have been fortunate and blessed to be in, the millions of people who love what it is that you do and look to you as an example, you

EMBARRASSED US ALL

… smh… had many people just shaking heads. you made it easier for those who have waited for you to fail, to fall, to let you do so…

DO BETTER!!! AIM HIGHER!!!
I think he has everyone, including myself, a lil upset with him. I use to be
PRO
Kanye but he is gettin a lil beside himself.
Calm it homie!