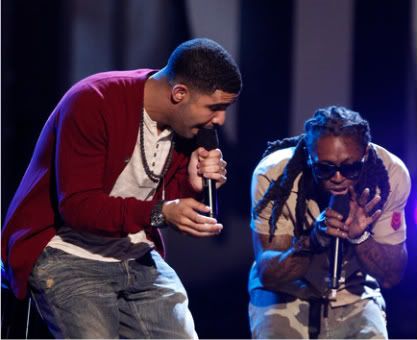 "That, actually -- to be honest -- was a terrible idea that I'll never do to myself again," he said. "But I was being pressed from different areas to perform, and I think what really happened at the BET Awards is with the passing of Mike, the climate really changed, as far as the award show goes. I don't think it called for us to perform 'Every Girl' and 'Always Strapped

I think it was an award show filled with tributes and music and these genuine heartfelt speeches. And to sort of climax out of a very tongue-n-cheek point, and then people misconstruing Wayne's daughters and her friends coming out on stage -- it was just timed very poorly and it definitely wasn't planned like that, but with that being said, it is what is.

I believe in Wayne and myself and it's nothing we can't bounce back from," Drake said. "To anyone who was offended, my personal apologies, it wasn't intended to offend anybody."
-
Drake on his controversial BET Awards performance

Umm yea, you probably don't wanna have girls, lacking the
required age
, singing and dancing to the lyrics of
'Every Girl'
, which reduces women to sex objects. It wasn't the brightest idea--at all!
KodakBoi