We live in a world where ongoing
scandals
involving
sex tapes
and
child pornography
can easily taint the image or career of someone who worked so hard to build it. We've seen this happen time and time again, where an artist makes a terrible mistake in their personal life, which effects their career in the most negative ways-- and some recover. Most notable,
R. Kelly
and
Michael Jackson
per say. In 1995, R. Kelly wrote
"You Are Not Alone"
for Michael Jackson, which Michael connected with many, even after tabloid headlines surfaced of MJ's strange relationships with
young boys
. To my point,
Invincible
, Michael's tenth and final studio album, sold close to ten million copies worldwide still claiming, by the fans, that they were still sticking by him.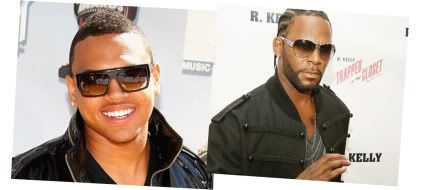 It goes without saying,
Chris Brown
is no
Michael Jackson
by far, nor an
R. Kelly
--sh*%,
R. Kelly is not even R. Kelly!
We all know Chris Brown caught a lot of flack Back in
February
after being charged with assaulting
Rihanna
and making criminal threats to his then-girlfriend on the eve of the
Grammy
awards. Brown, who almost walked away unscathed, is currently serving
180
days of community labor in Virginia &
five years
probation for the mistake he made in his
"personal life."
So where does that leave Chris when he makes his return to his career? Does he still have a following?...Does he need a
"hit"
to retain his spotlight?...Or does he simply just need more people...I don't feel the industry believes what he stands for anymore? I mean really...He has gotten
NO
support from industry heavyweights, other than
Diddy.
Now you gotta understand, which I do, there's a
big difference
between Chris Brown and R. Kelly. Kelly has/had an older set of fans/corefans which he acquired from a different era--the
early 90's
. That's a 15 yr +span. Chris Brown, on the other hand, has a
younger fan base
and his fans stem from 4 years back--2005. Not a very long time to stay in the hearts of many. Parents of those tiny-boppers who bought Chris' music are not allowing their children to support him as they did prior. So again,
where does this leave him?
What commercial gimmick will Chris Brown use to rebrand not only his career, but his reputation? His
YouTube
"apology video", 
released today, is not enough. I believe your vision of where or who you want to be is the
greatest asset
you have--
and Chris has to do more
. Where does Chris see himself when, and if, he's able to revamp this career? I tell you what, I think in order to regain what you had--plus more, he's going to need a damn good
PR
. And I mean a really good one!! I don't know how Chris Breezy is going to do it, but If
R. Kelly
still managed to sale records after being captured on film
pissing
on underage girls, I'm sure Chris could pull a few tricks out his sleeve. I'm sure his team has a goal for him, but would it be difficult for them to score it with today's audience? This is not the early 90's, things are a little more
critical
to our youth now-a-days.
Are ya'll ready to give him a 2nd chance? His
apology
sounded a bit scripted to me, but do you think he was sincere?