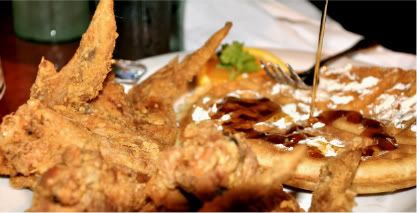 Why is it when black folks face a hot plate in front of them, the room abruptly become silent??
--& as maple syrup dripped across the table, we heard just that... Silence! Not a word was spoken, for at least a good 5-7 mins, once the food was served. Needless to say, we got down on some good ol' southern cookin' from the famous Gladys Knights Chicken & Waffles!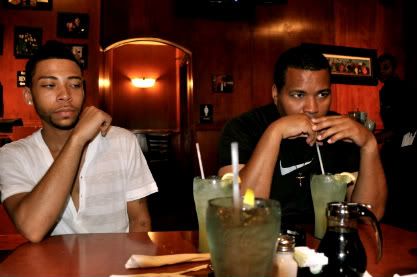 Most people, from the reviews I've heard, don't like this spot...but I actually enjoyed my portion! Everyone at the table rolled with the
Midnight Train
-
"chicken & waffles"
, but I opted to be a "
Grammy Winner"
 and went for the S
mothered chicken over rice, with a side of greens and a side of mac & cheese
.
Finger-licking good
! I now that line was corny but it's true. Gladys had me licking fingers and half my plate once I was done with that jawn.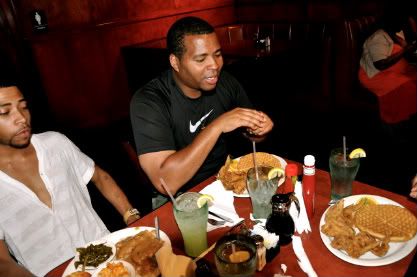 Our waitress must of had a thing for our table, because she wasted no time randomly throwing in how "
handsome
" she thought I was... or how
Colgate
Kodak's smile was, which eventually got her serenaded by
KidduNot's
 up and coming artist,
Philip Michael
.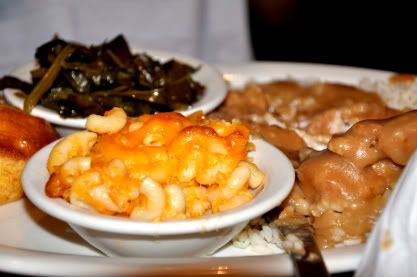 One thing that is guaranteed in Atlanta, is their variety in some of the best foods! I was able to connect and network with mad people while I was in Atl, and simply off the strenght of table talk... Everybody seems to be somebody in the "A."
Place: Gladys Knight & Ron Winan's Chicken and Waffles
Location:
Downtown Atlanta
529 Peachtree St. NE
Atlanta, GA 30308
J. Cherry