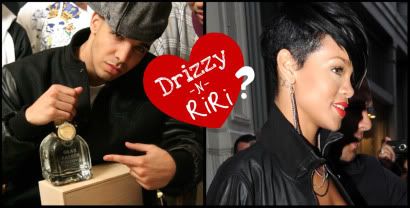 "And Shawty Wanna Party,So Dont Let Ya Girl Up Out The House/
Or There'll Be Shots On TMZ Of Me Givin Her Mouth To Mouth"
-
Drake
on (Uptown)
Hot dam hoe here we go again!
Rihanna
is back in the headlines this morning, after her &
Drizzy Drake
were labeled as
"make-out buddies"
at Lucky Strike Lanes & Lounge in NYC.



Rihanna is officially over Chris Brown. The Barbadian beauty showed up with a group of friends Monday at Lucky Strike Lanes & Lounge on West 42nd Street, but spent most of the night locking lips with Canadian former child actor-turned-rapper Aubrey "Drake" Graham. "She was drinking whiskey and apple juice and making out with him all night," says a spy. "They were really cute together." Rihanna, who's also been spending time in town with Katy Perry, peeled off with Drake at about midnight.
Seems like Drake is bringing
"lightskinned"
back ya'll...Is he becoming the new
Al. B. Sure
--
Chico Debarge
 over night? Back in the days girls used to go crazy for them, now it's all about Drake...
I'm just saying.
He's the only rapper I know that, in a short period of that, has
snatched up
the industry by surprise and
taken all the ladies
with him. Girls in Atlanta go crazy for Drizzy--trust me, I've heard stories.
If there is any truth to this story,
Drake is the f'ing best
, as he proclaims in his song!!