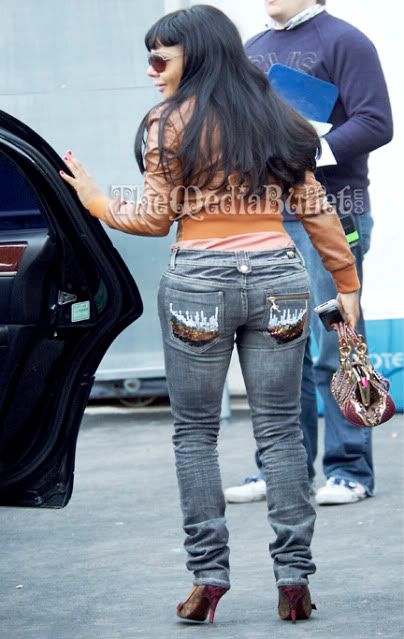 The
Queen Bee
, who has been seen swiveling her
"bionic booty"
on ABC's
Dancing with The Stars
, reportedly spend
$9,000
for a
Brazilian butt lift
, according to plastic surgeon Dr. Anthony Youn.
"It's a fat-grafting procedure where the fat is taken from the individual's thighs and waist, transferred and implanted into the buttocks. It looks like the surgeon did a very nice job,"
Dr. Youn
said with knowledge.
A
source
close to the rapper told
The National Enquirer
:
"Kim has never felt any shame about going under the knife to improve her appearance. She was always complaining about how her butt sagged, and she admired Jennifer Lopez's back end."
For some reason,
Lil' Kim
has had a a lot of people fooled (
the ignorant ones
) thinking she grew her
bionic booty
while spending time in the pin back in 2005 for Obstruction of Justice. I mean, c'mon now, it was quite obvious that Kim never had
junk in the trunk
like she does now in her career. And Kim is not the only one enhancing her derriere, it's the latest trend in
Hollywood
--all the girls are doing it!
In related news, Kim plans to secure a
publishing deal
& write a book about her experiences while incarcerated in
Philadelphia's Federal Detention Center
back in 2005. Kim says
"It's about the things I learned and went through...You don't think about things until it happens to you. The book is going to give people who have been in those situations a bright outlook on life."