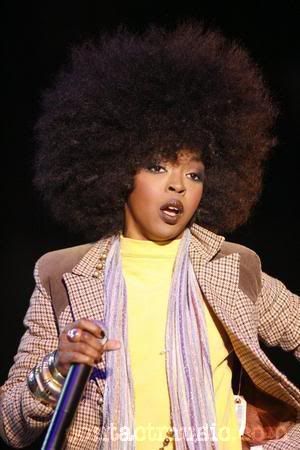 Grammy award winning rapper/singer
Lauryn Hill
is set to go on a
10-date European tour
this July. Since we do have readers
overseas
, this pertains more so you you all, rather than us in the States!
The
Associated Press
reports that as part of her trip, Hill is set to headline the
Stockholm Jazz Festival
in Sweden, which usaully bring in a mere
30,000
spectators during it's five-day run.
Lauryn will continue her tour in Switzerland, where she joins the likes of the
Black Eyed Peas, B.B. King, Herbie Hancock,
& among many others in this year's
Montreux Jazz Fest.
That concert is scheduled for a
July 11
date at the
Stravinsky Auditorium.
Words can't express how badly I want a
Lauryn Hill album
--live or studio. I need some
rehabiltation
from her, musically.
Her music always got me right together!
No matter how crazy they say she is, I'll always be by her side.
I heart you L-Boogie!
KodakBoi