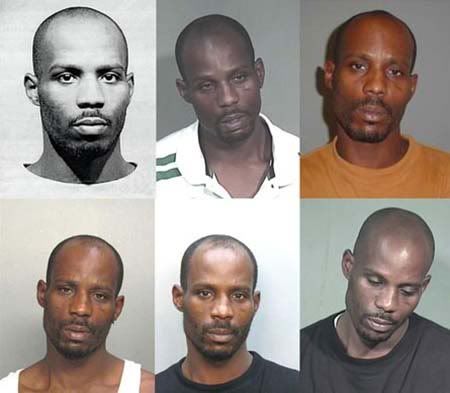 Now we all know that DMX has had his fair share of troubles with the law... If you don't believe me, check out the host of mugshots above. Currently, DMX, real name Earl Simmons, is serving a 90-day jail sentence after pleading guilty to
felony
charges of
theft
,
drug possession
and a
misdemeanor
charge of
animal cruelty
on Dec. 30.
To say that DMX "
doesn't give a f***
" is probably the biggest understatement of the year. He was already on a "bread and water" diet as punishment for an earlier jail voilation.
Word is that he might face
8 YEARS IN JAIL
for
ASSAULTING A POLICE OFFICER!!!
Apparently, while tripping out because he was denied a dinner plate (because he's on a bread and water diet), he
threw a tray at a prison guard!!!
The guard is uninjured, but this is still a huge deal. He was rebooked, which means that he was basically re-arrested, while in jail, for committing a totally new crime.
Do ya'll remember when DMX was the hottest rapper in the game? Back in 1999/2000, he used run neck-and-neck with Jay-Z. In fact, he actually pushed more records than Jigga did...
How do you feel about Earl Simmons? Dude is 38, will he ever get over these problems?