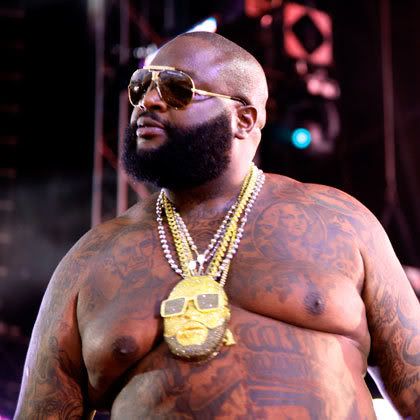 And the drama goes on.
Rick Ross
calls in to
Ricky Smiley
's radio show in Dallas, Texas , to take jabs at
50
's fashion sense , and to tell what he thinks about 50's shopping spree with his baby momma. When asked how he felt about the shopping spree, Ross responded saying,
"I got 15 bad bitches that really deserve a shopping spree and I need to know where I could fly them to so they could get theirs."
Later in the interview, Ross seen an oppurtunity to take jabs at 50's fashion sense, and brings
Tony Yayo
in the mix.
"What he need to do on the real is take Tony Yayo shopping, take Tony Yayo's grandparents shopping," he said. "You know 50's one of the worst dressers in the game. They shut his clothing line down cause of the way he dressed. You know he wear rings on his middle finger and wear Reeboks [and] Carhartt jeans. I wear Gucci and Louis Vuitton, I'm a fly dude."
Thought it was over? Nah, Ross continues the disses, and even mocks New Yorks dialect.
"It's not really a competition, lyrically I murder that boy," he bragged. "I'm sonning that boy. Werd up dun! That's my son. Ain't that how they say it in New York?"
And when asked about being an officer, Ross responded saying
:"The Boss was never a mark, I was never a fake."
Rick Ross released a video for "Gang Affiliated"(which can be seen here at KidduNot.com) where Ross pours out a bottle of 50's vitamin water.
50 said recently in radio interviews that he has recruited Jacki O and Trick Daddy ,
two of Ross's hometowners, to help him in the War On Ross . However, Rick Ross , says stay tuned , because he has a few tricks up his sleeve also. Personally, I'll be glad when this is over .