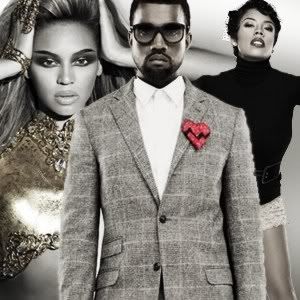 I was checking out the billboard 200 album list, and I could not help but notice that three of my favorite artists are still pushing
major units
weeks/months after the releases of their respective albums.
Beyonce's latest album has been out since November 11, and it's still #2 on the charts, only one spot below Taylor Swife, who is probably the biggest thing in music right now. Of course my boy Kanye, whose
808s & Heartbreak
came out on November 24,
jumped a spot
up to number 4 from number 5. Keyshia Cole also went up a couple of spots, from #9 to #6. Mind you,
A Different Me
, came out on December 16th, which means that it's been out for over a month.
And who said Black music was dead??? Check out the complete top ten below. The
numbers in blue
represents the spot that they earned this week, and the
number in red
is the spot that they earned last week. The # to the far right is the amount of units pu shed.
1
1
TAYLOR SWIFT Fearless 63,000
2
2
BEYONCE I Am...Sasha Fierce 51,000
3
3
NICKELBACK Dark Horse 45,000
4
5
KANYE WEST 808s & Heartbreak 39,000
5
6
SOUNDTRACK Twilight 33,000
6
9
KEYSHIA COLE A Different Me 31,000
7
7
BRITNEY SPEARS Circus 31,000
8
8
JAMIE FOXX Intuition 30,000
9
4
SOUNDTRACK Notorious 29,000
*
10
New
MARIAH CAREY The Ballads 29,000
WillyTee for KiDDuNot.com