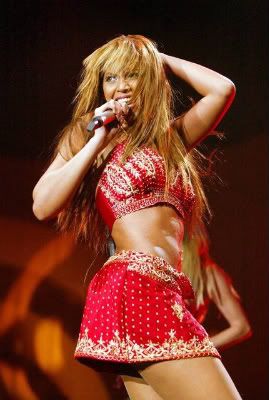 Beyonce (pictured above as Sasha Fierce doing something "Sasha Fierce"-esque) has another reason to celebrate over the holidays. On Christmas day,
"Single Ladies" landed at the No. 1 spot on both the Billboard Hot 100 and Hot R&B/Hip-Hop Songs chart.
This single is now at its
third and sixth week atop them both
, respectively. The track sold 149,000 downloads in the United States, according to Nielsen SoundScan.
There's not much movement in the top 10 of the Hot 100 this week, as
T.I.'s "Live Your Life" featuring Rihanna holds at No. 2
and Lady GaGa's "Just Dance" featuring Colby O'Donis remains No. 3. Kanye West's "Heartless" is the chart's greatest airplay gainer and rises 7-4.
Britney Spears' "Womanizer" is up 6-5, Katy Perry's "Hot N Cold" jumps 8-6 and Taylor Swift's "Love Story" climbs 11-7. Swift's "Fearless" (Big Machine) is in a third non-consecutive week at No. 1 on The Billboard 200.
Another West song,
"Love Lockdown," moves 10-8, while T.I.'s "Whatever You Like" falls 5-9 and Beyonce's "If I Were a Boy" falls 9-10
to round out the top portion.
How well do you think "Diva"/"Halo" will do on the charts??? If you've seen those new videos then you know things are looking good for Queen Bey!