Have you ever heard the phrase: It doesn't matter how you treat those people below you, unless you have to come back down!" Well... the former Miss. California is going to have a loooooong trip back down...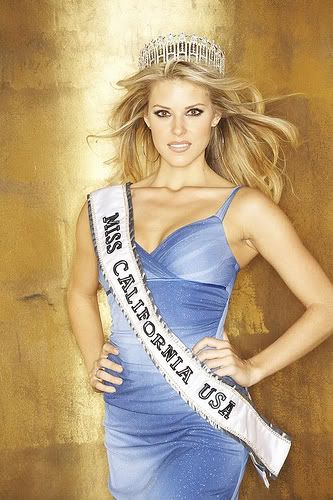 Because she "treated [people] like s**t" and continued to ignore her 'contractual obligations,' Carrie Prejean, has just been stripped of her crown. She will also therefore no longer be the runner up to the title of Miss. U.S.A.
Prejean gained recent fame for her comments on same-sex and "opposite marriage" (her words, not mine) during the Q&A portion of the Miss. U.S.A. Pageant
I think they should have took her crown when those half-nekkid pictures of her surfaced. I have no problem with nudity, but they took the Miss U.S.A. crown from Vanessa Williams for doing the same thing back in '83. And if it's good enough for Vanessa Williams, it's good enough for everybody!